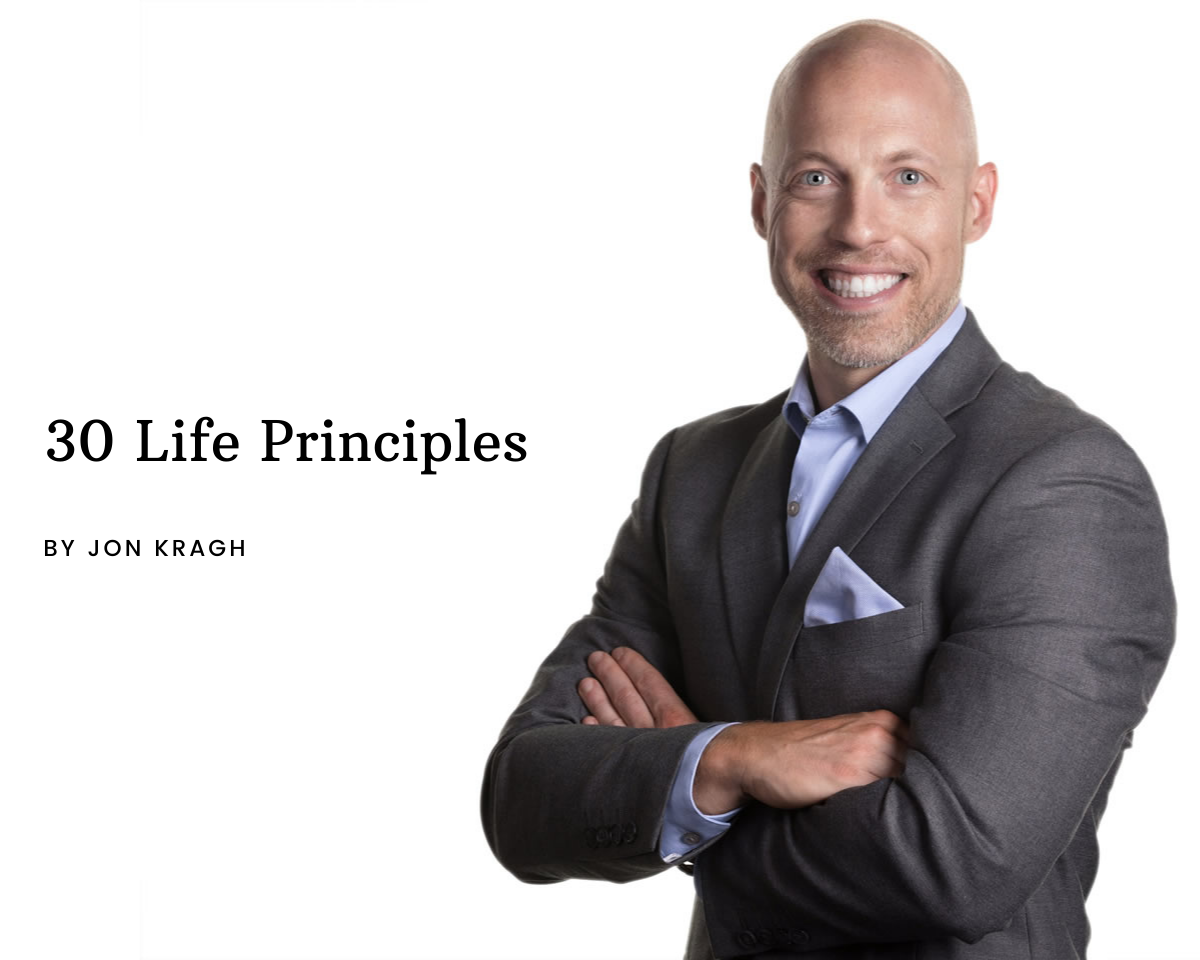 Jon Kragh's 30 Life Principles in 2019
My personal goal on this 2019 holiday break, outside of family time, was to organize my beliefs.
This list is not complete, but it covers my top 30 beliefs that I have cataloged over the past two years. My process has been to write things down that I feel are true, for reflection. The list below is my best list today.
I was heavily influenced by Ray Dalio to start this process and I highly recommend organizing your own list, not only for yourself but to help others understand who you are and to pass down your hard-earned lessons to your loved ones.
Expectations drive behavior. Behavior impacts outcomes.
You always have way more in you than you think you have. Take on the heavy load, you will figure out how to handle it.
Small steps add up, break things down then build them up.
Words have power. Words can live forever. Writing creates influence and immortality.
Everything looks big up close that is why it is important to give yourself some time to step away from a problem to see it for what it is.
Beliefs do not have to be scientifically proven to help your outcomes.
What you think about expands.
Do not judge difficulty by first try efforts.
Life is filled with patterns that repeat themselves over and over. Identifying and becoming aware of these patterns yields great power.
Much of life is a self-fulfilling prophecy.
Pain and failure produce the greatest push forward, if you use it to your advantage.
Know the difference between opinions and advice.
We overestimate what we can do in the short term but underestimate the long term.
Do not look for yes men or women, they do not serve you well.
Reflection is vital. Failure without reflection is just pain. Reflection will pay off 10x the effort to reflect.
Jump on opportunity when it arises.
Small steps can build massive momentum. Focus on one small victory at a time.
There is something that the other person knows that you do not, even when they may be mostly wrong, there is something you can learn from everyone.
Taking full responsibility for the circumstances of my life is an empowering and practical approach.
I can alter my life by altering my attitude.
Spend less time worrying and more time pushing ahead.
People's attitudes towards you are a reflection of them more so than it is of you.
I am happening to this world, the world is not happening to me.
Think long-term.
Win long-term by choosing faith over fear in the moment.
Listening and practicing tactical empathy is one of the most effective forms of influence and at the same time, self-improvement that exists.
Constantly look for ways to use the minimum amount of effort to get the maximum amount of learning.
Customer service and customer-centricity are extremely valuable and underestimated.
Hire A players rather than B and C players.
I must believe it before I will see it.